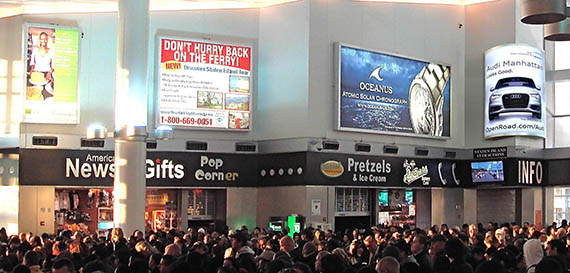 3 Reasons Why You Should Consider
Out-Of-Home Advertising
---
Teresa Rampulla
Marketing and Advertising Sales Manager at FerryAds and She Media NY
---
If you're trying to reach busy New Yorkers and build awareness for your company, there's simply no better option than out-of-home advertising. That's especially true at big commuter or transit hubs, where your billboards and signs have a chance to connect with potential customers for an extended period of time without a lot of competing distractions. Here are just three of the reasons why you should consider out-of-home billboards to drive ROI for your next advertising campaign.
#1: Flexibility
Out-of-home advertising has come a long way since static billboards grabbed your attention. There are now digital billboards that change advertising messages every 9 seconds, zipper billboards that scroll overhead with continuously updating messages, and ads that display whenever you log into a public Wi-Fi network. While Static offers you the opportunity to "own the space" the digital offers the chance to add motion both with an affordable price tag.
Just spend a few minutes strolling through the Whitehall and Staten Island ferry stations and you'll immediately get a sense of how different and creative out-of-home advertising has become in today's digital advertising environment. You now have tremendous flexibility to update your ad campaigns without additional printing costs.
#2: Integration with the mobile lifestyle of commuters

Out-of-home billboard advertisers have a real ability to impact the path to purchase of potential consumers while they are waiting for their transportation. For example, consider a commuter headed home to Staten Island on the evening ferry. You have an opportunity to reach that commuter both during the average 25-minute dwell time at the ferry terminal, and then again during the ferry ride home. If you can serve up the right ads during that time period, you can influence what they buy as soon as they step off the ferry.

The key to this strategy, of course, is the mobile device. Billboards that specifically encourage consumers to interact with their mobile phones during the commute can become a powerful stimulus for a final sale. You are not just reaching the customer – you are also educating that customer. And you have nearly half an hour to do it!
#3: Ability to break through the clutter
Especially in a market like New York, there is always competition for a consumer's attention. Walk down on any street, and there are billboard ads, street signs, bus ads and taxi ads. There are ads on the sides of buildings and ads covering windows of stores. That's a lot of competition.
Now contrast that situation with a ferry ride from Staten Island to Manhattan. There are no competing distractions. That's 25 minutes without driving, without TV and without any other tiny distractions. That's an extraordinary opportunity to break through the clutter for any advertiser.
As a result, it's easy to see why out-of-home advertising is better than other media for reaching busy New Yorkers. You have access to a wide variety of formats and sizes, and you have the ability to create ads that integrate directly with the mobile lifestyle of commuters. Best of all, you can break through the clutter with ads that can directly impact the path to purchase. All of that means greater ROI for your next advertising campaign.
#SIFerry #marketinginNY #ShemediaNY #spendingwisely #Marketingsuccess